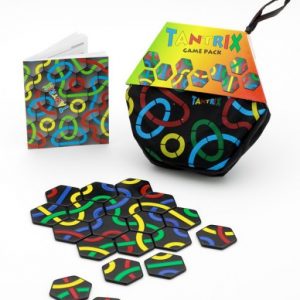 The set consists of 56 unique black tiles, all numbered and colour-coded on the reverse side, a practical colour travel bag and a new edition of the 50-page illustrated activity guide. Inside you'll find :
28 Discovery puzzles
5 Rainbow puzzles
The Classics: Junior, Student, Professor, Master and Genius puzzles
The "Two Unsolved Puzzles"
Tantrix Solitaire
Tantrix Gobble (2-6 players)
And of course the game of Tantrix Strategy for 2-4 players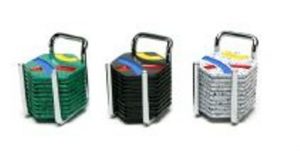 The Discovery is our most addictive puzzle creation yet! As a progressively challenging solitaire activity it was singled out from the Game Pack to provide the perfect introduction to Tantrix. The concept is simple: Ten tiles numbered on the reverse from 1 to 10. Start with three tiles, then slowly increase the difficulty by adding more tiles – it's guaranteed to hook you.
Contains 10 hexagonal tiles in a wood or chrome stand. The puzzle is designed to sit on your coffee table and drive your guests to distraction. Also available in a black mesh bag. The Discovery is the best way to learn about Tantrix concepts and improve your spatial skills. This is the one to start with!